Building a Table and a Friendship
By admin – February 5, 2016
By admin
February 5, 2016
I met Laurenz Brunner the HMCT Typographer in Residence on a Monday afternoon in, what was soon to be, our studio. I carried with me a box of tools and a small diagram of a Enzo Mari's "autoprogrettazione" table printed on a 8.5"x11" sheet of paper. Needless to say I was a bit nervous about meeting a designer that was such a big part of the ArtCenter zeitgeist, but within the first few minutes I felt at ease.
The HMCT was still populated with Tyrone Drake's show "Hard Bop Reflections and Interpretations of a Militant Manifesto," and it was hard to imagine it as a working studio space. We had the option to use the existing flat gray tables as our desk but Laurenz had something else in mind.
Designing the space around us was our first priority since we were going to be spending the next few months there. Laurenz has also taught at the Gerrit Rietveld Academie, and he told me that students are encouraged to take ownership of their space and design their own environment. 4 lumber yards and 8 hours later we had it, a beautiful raw poplar table.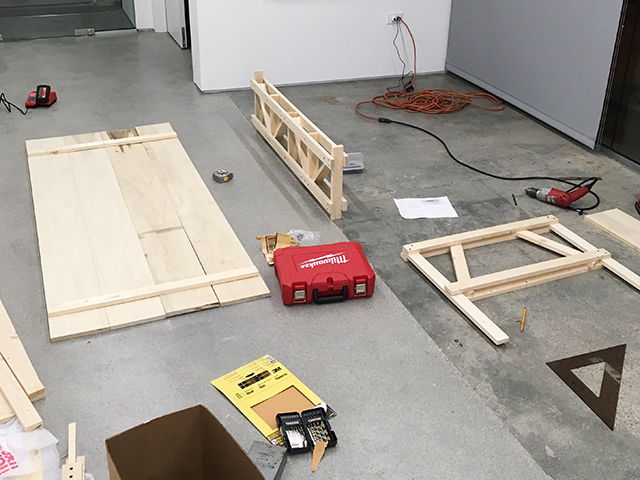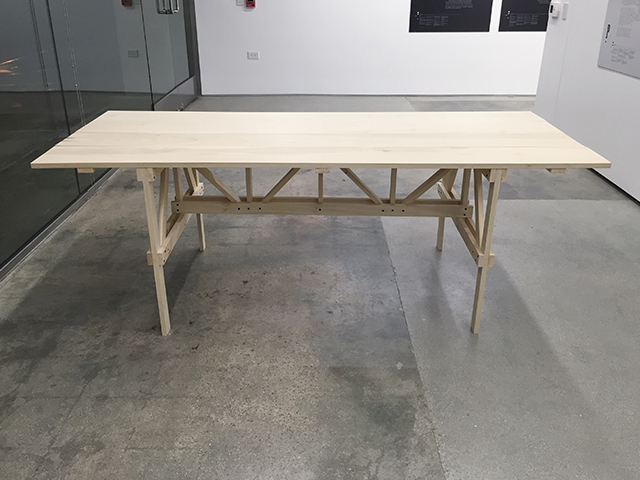 Today, the table surface is barely visible being covered by endless stacks of books and sketches. Unfortunately for you, I'm unable to disclose any information on the topics of research until Laurenz makes his big reveal on February 25th, but I will leave you with a favorite quote from the artist Guy de Cointet:
"The pleasure lies not in discovering a secret—often insignificant in itself—but in discovering the system of encryption."