Following in the traditions of Polyglot Bibles in which the text consists of translations in various languages, and Bodoni's expansive landscape of type design in the Oratio Dominica that illustrates his use of over 150 multi-script languages, MIKE/SIERRA/TANGO, an exhibition at the Hoffmitz Milken Center for Typography [HMCT] highlights the value of typography in a world connected by new information technologies.

Abbreviated as M/S/T and representing the term multi-script typefaces, the exhibition title MIKE/SIERRA/TANGO is based on the 1955 International Civil Aviation Organization system that assigned codewords to the letters of the English alphabet, so that combinations of letters and numbers were more likely to be pronounced and understood by those who exchanged voice messages by shortwave radio or telephone, regardless of language differences. The exhibition features a collection of thirty-five type specimen panels displaying contemporary multi-script typefaces that demonstrate the strength of communication that is created to be harmonic and functional, while respecting these culturally diverse language systems. Scripts are living cultural artifacts, each with its own technical, formal, and historical conventions. Projects on display illustrate how letterforms, the foundations of written language, can maintain their unique design characteristics across multiple scripts.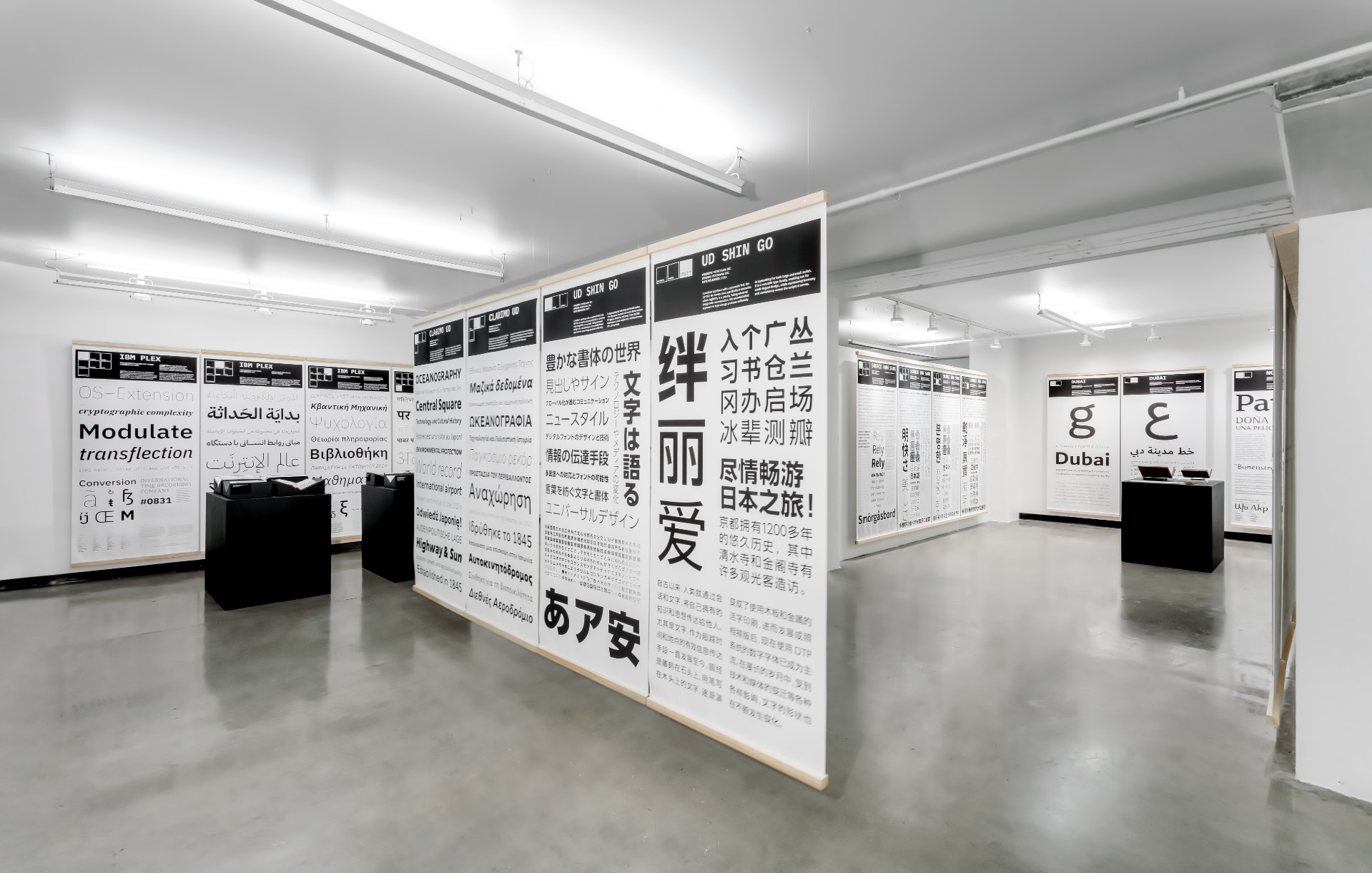 Beginning with a typeface designed in Latin, designers have then expanded their fonts across multiple scripts that include Greek, Cyrillic, Arabic, Hebrew, Thai, Devanagari, Japanese and Chinese. Additional lesser-represented scripts include Hangul, Vai, and Armenian. Some of the font families are extensive. Source Han Sans, an Adobe Original, provides full Chinese, Japanese and Korean language support. Each weight in the family has a total of 65,535 glyphs [the variety of designs of each typeface character]. The entire Source Han Sans family contains almost a half a million glyphs. IBM Plex, an open source typeface super family designed under the direction of Mike Abbink, is the new corporate typeface for IBM. It strives to maintain its "Plexness" while expanding across multiple languages including Greek, Arabic, Devanagari, and Thai.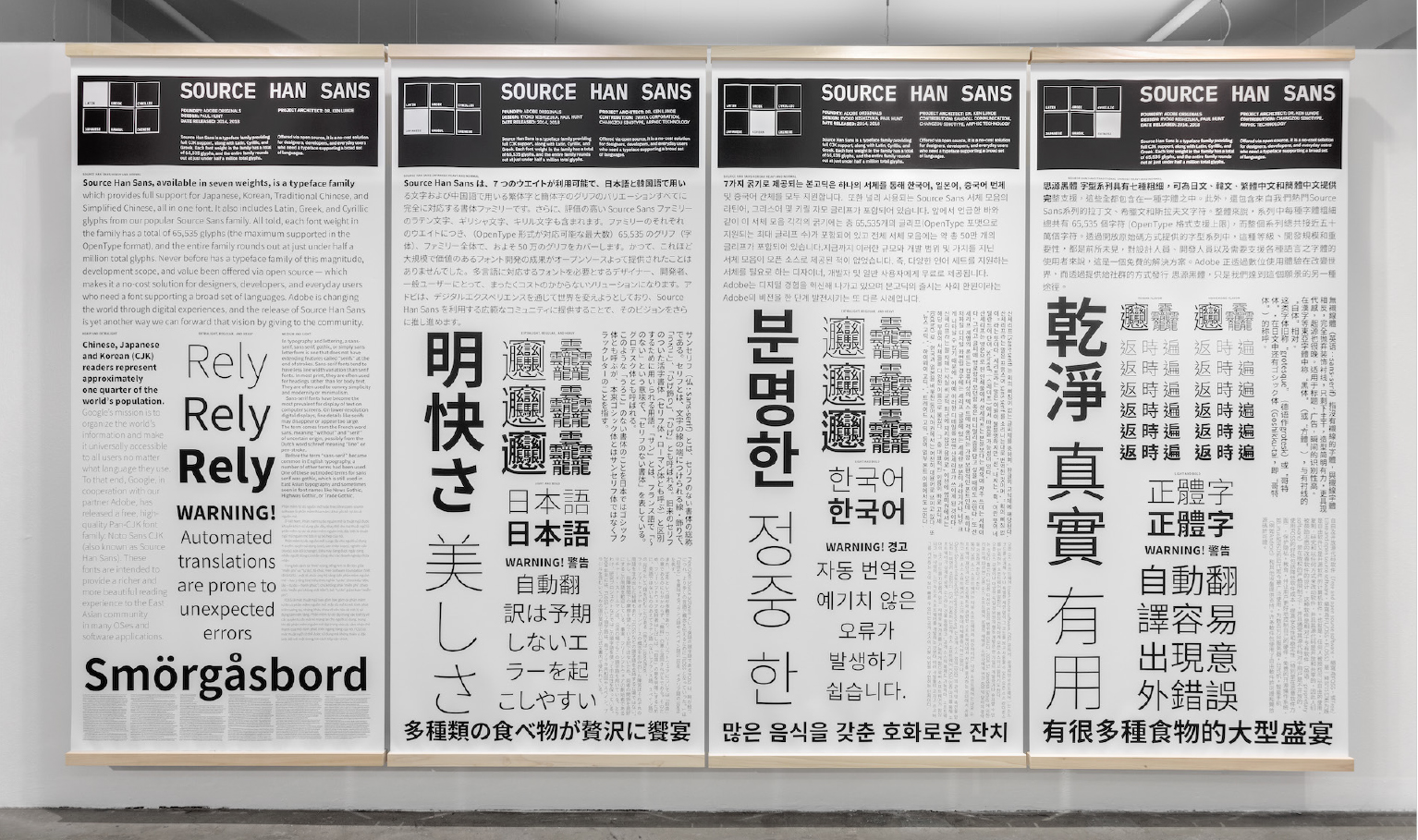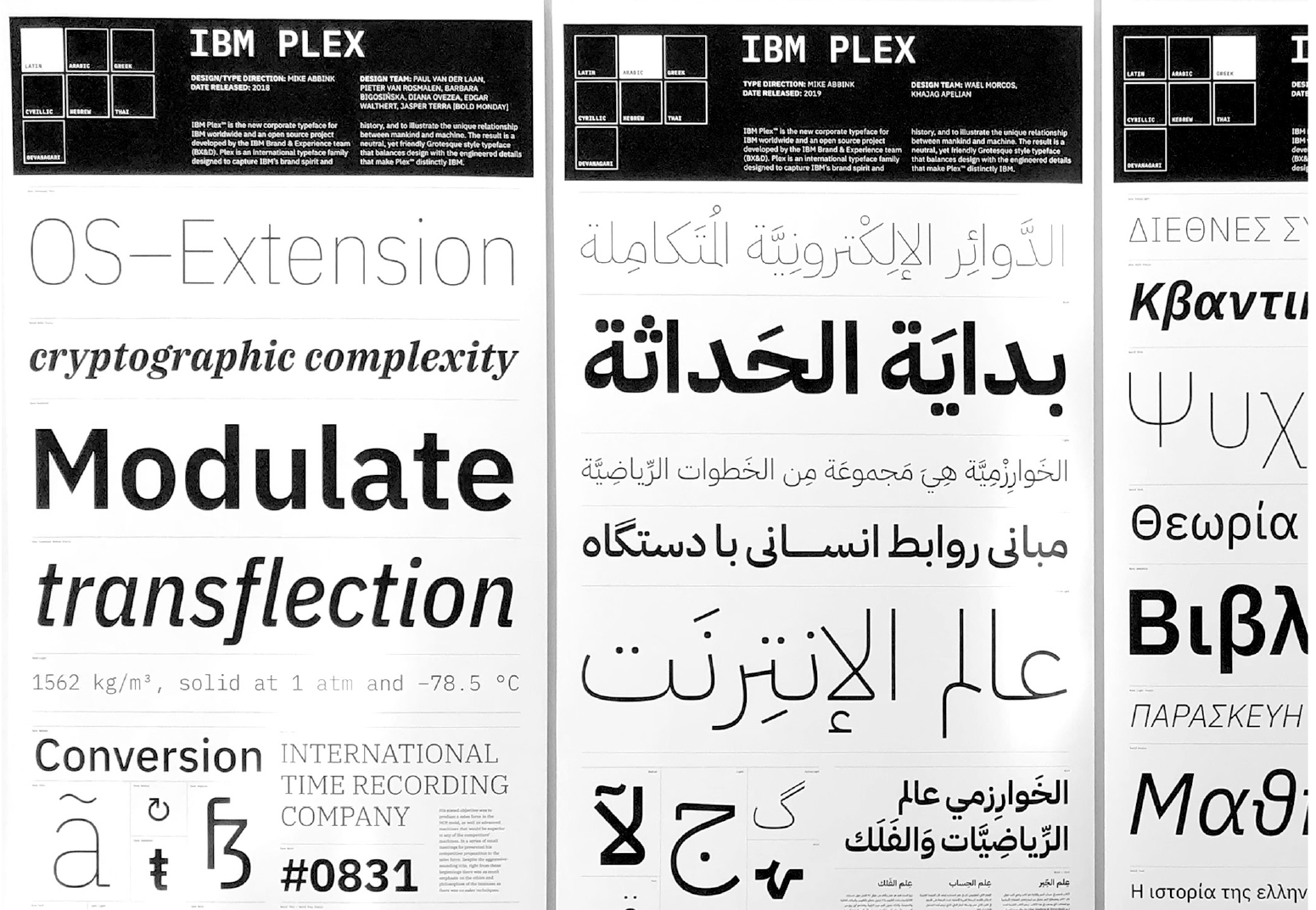 Other families are designed with a nod to history and cuture. Kazimir, designed by Type.Today, finds its design roots in pre-Revolutionary Russian literature, while the Kigelia typeface family, designed by Jamra Patel, serves the most prominent writing systems in Africa previously unavailable for several African languages.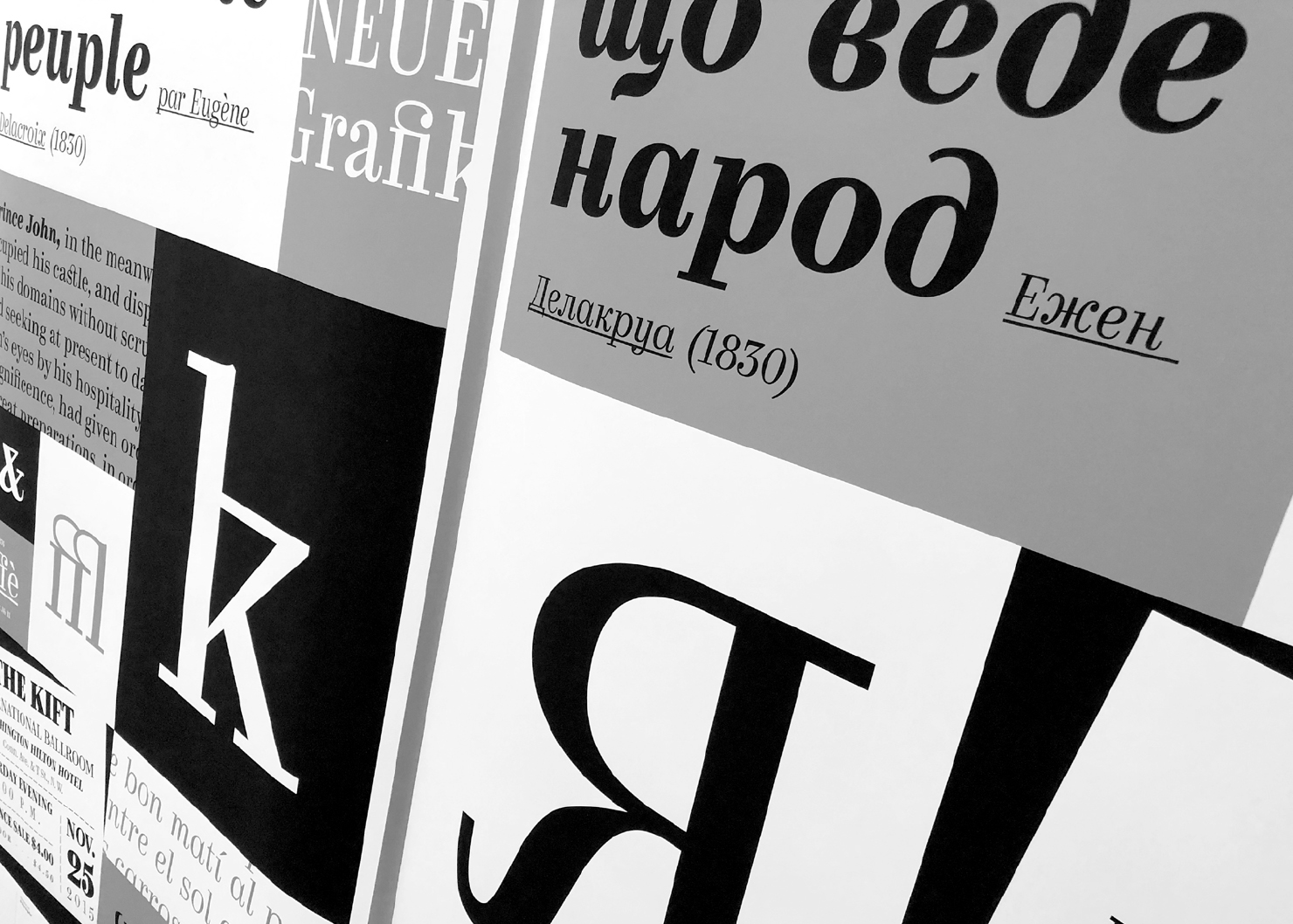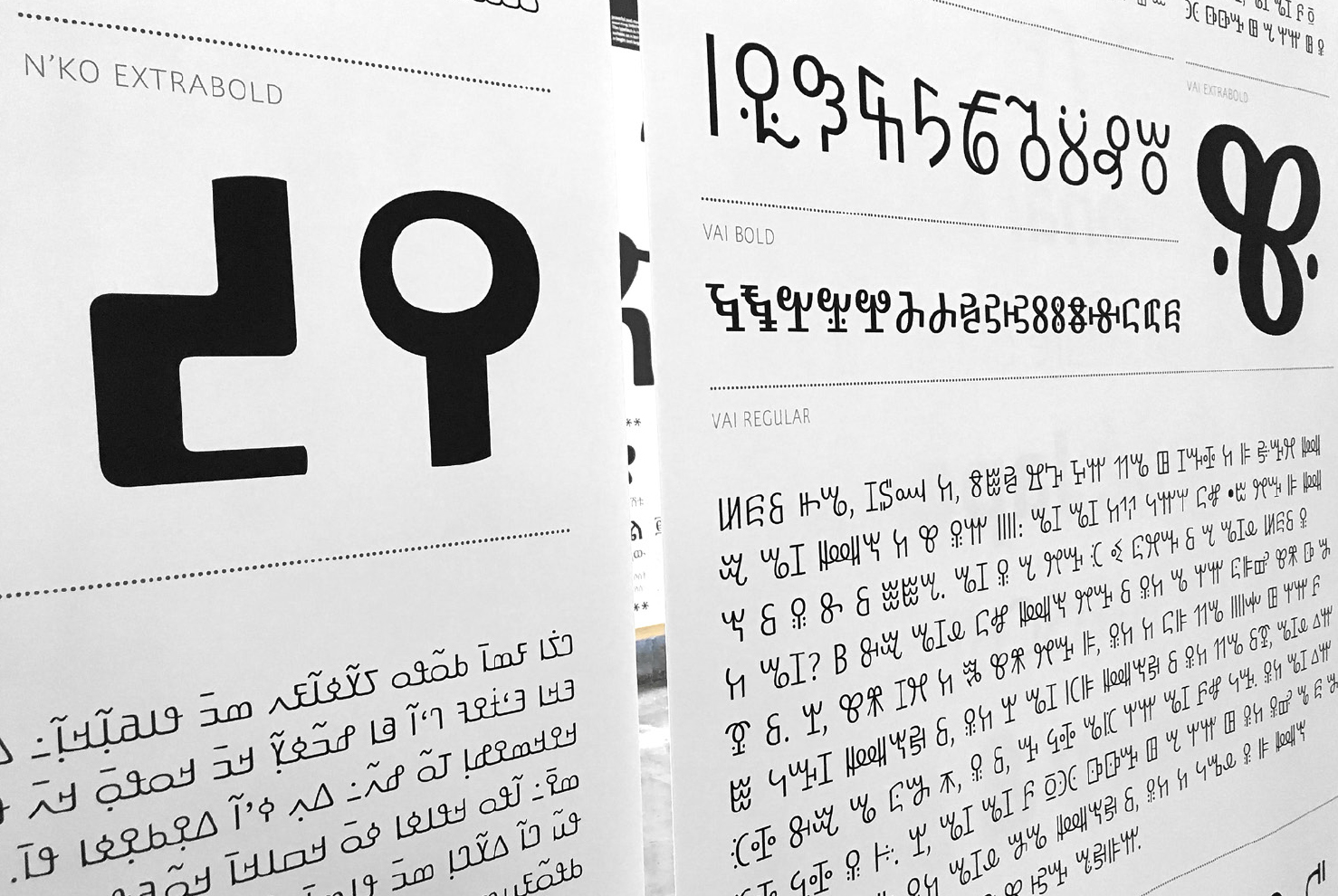 All of the typefaces exhibited were developed with in-depth consultation from script and language experts. For most of the designers, developing multi-script typefaces was a lesson in cross-cultural cooperation with the common goals of respect, communication, and functional, well-designed letterforms.
M/S/T was also on exhibition at ATypI Tokyo, September 2019
The exhibition was chosen for inclusion in this year's Communication Arts Typography Annual.
A catalogue is available for order: hmct@artcenter.edu