I was supposed to be in Italy for a press check at this time of year until the pandemic hit. As plans everywhere have been disrupted, I thought it might be interesting to travel vicariously to Florence using pictures I have taken on previous visits, specifically to one of my favorite buildings, the city's railway station, or stazione, Firenze Santa Maria Novella; in particular to discuss the typography of the original signage.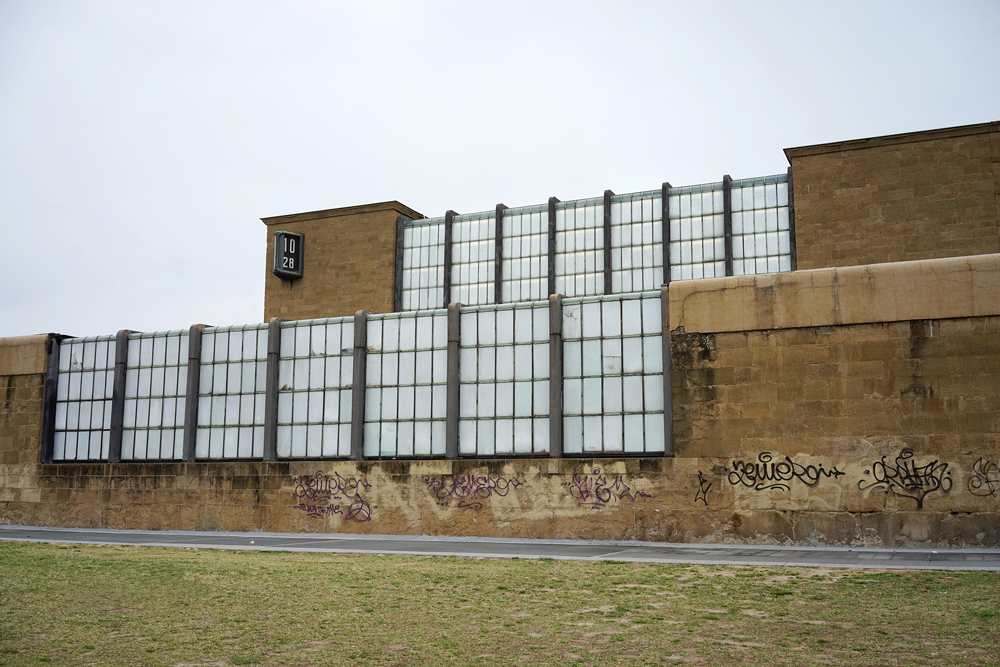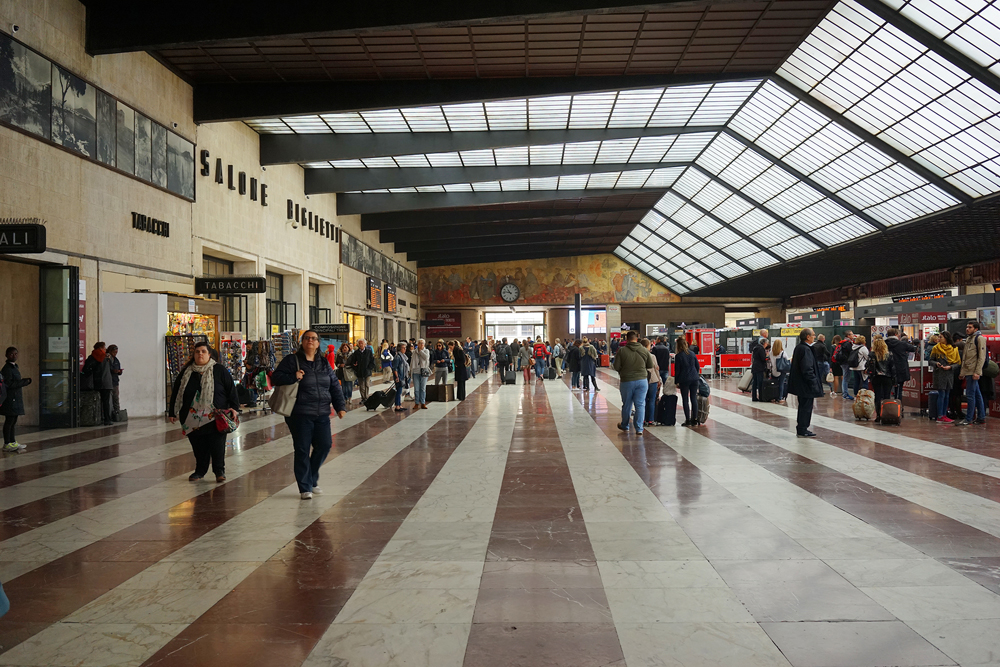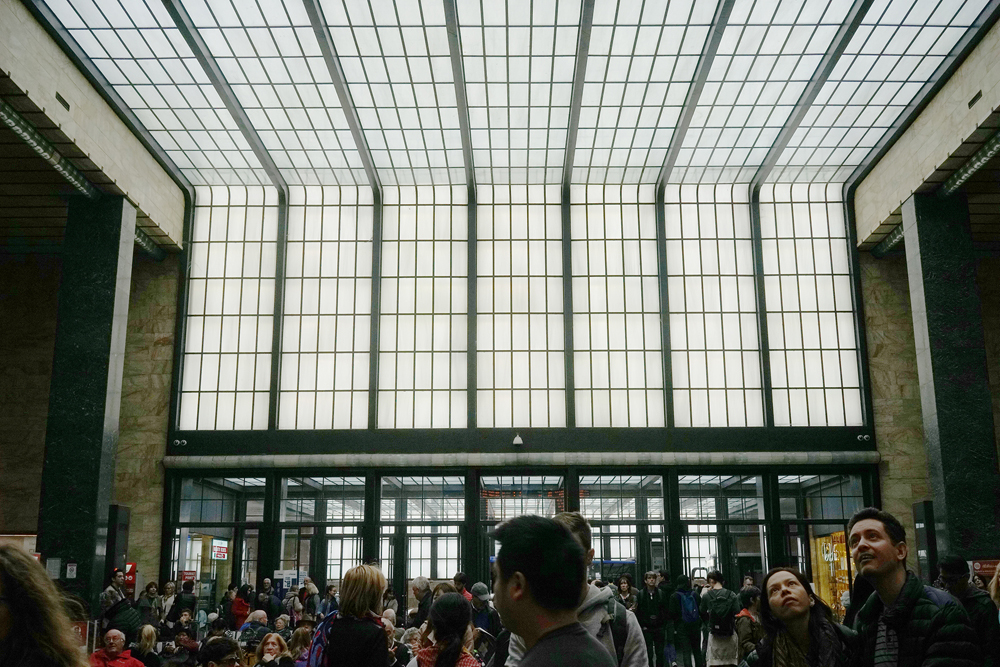 Opened in 1935, the building is considered a masterpiece of Italian modernist architecture; it was designed by Gruppo Toscana, led by architect Giovanni Michelucci. Although approved by the Mussolini regime, the building—which won an open design competition—belongs to the rationalist movement rather than fascism, whose official taste leaned more towards a monumental bare classicism. Largely faced in the warm local pietra forte sandstone, the building features a spectacular continuous glazed grid, flowing up from the front entrance, over the ticket hall, and across the platform concourse. The cavernous, unsupported concourse features red-and-white-striped marble floors lit from metal-framed glazed panels above. The station was, and still is, a radical and confident statement of form. This is expressed not in an emotionally cool international modern way, but rather in a more nuanced Tuscan modern one, using sympathetic materials, rooted in place with a nod to history. Of course, by now the building is showing its age in many ways, but it is still a thrilling space.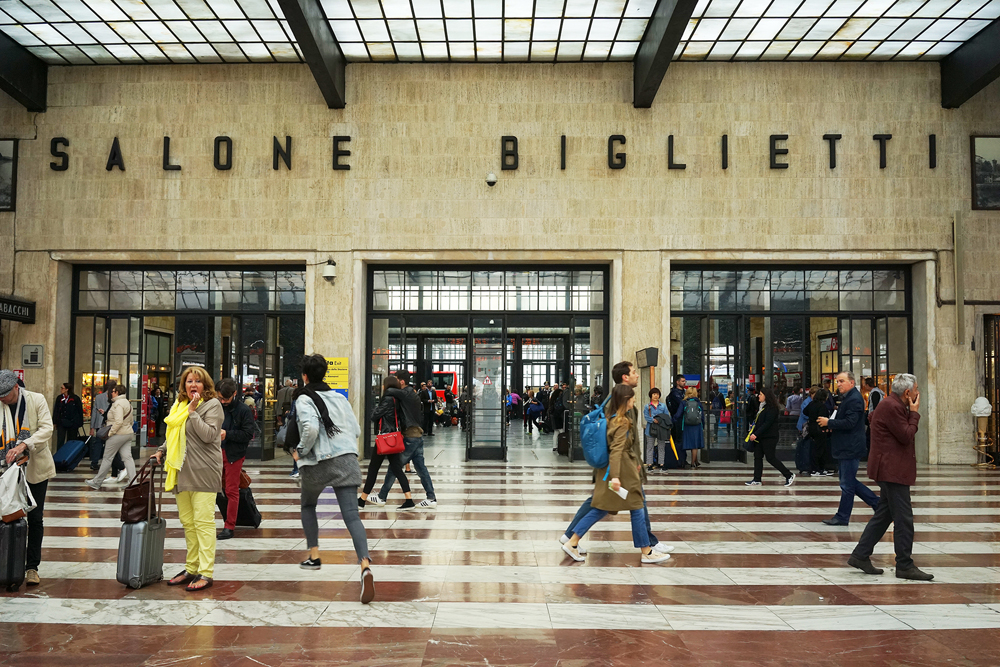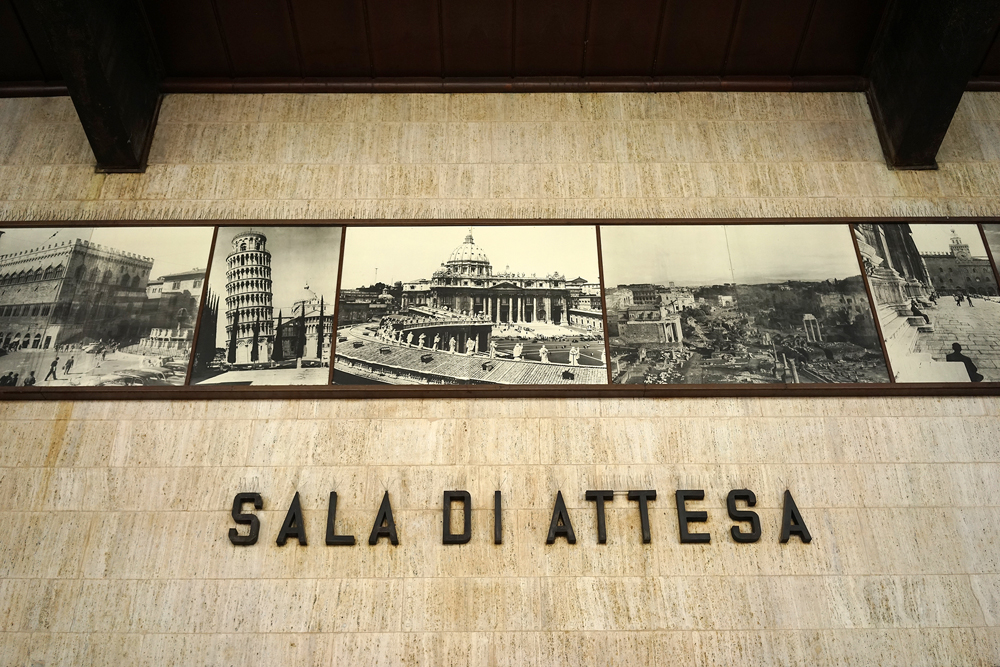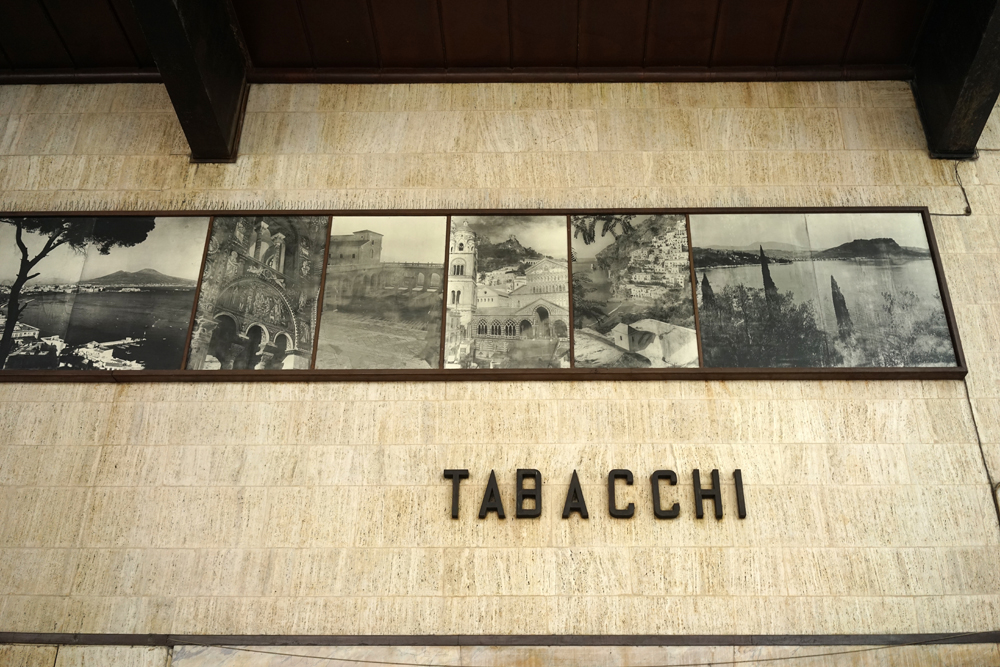 In terms of signage and letterforms used there is some stylistic consistency, but not a rigid system. All original signs are in linear sans serifs with a distinctly Italian 1930s flavor, with three or four different typefaces used. From a time when typefaces were local rather than international, most seem to be hand-crafted metal forms. In the main concourse SALONE BIGLIETTI (ticket lounge), SALA DI ATTESA (waiting room) and TABACCHI (tobacco) are in a strong linear condensed face with sharp-pointed terminals at the tops of A and N. Those of you who find yourselves wanting to re-kern TABACCHI just need to let it go and enjoy it, along with the adjacent original photographs of scenic Italian destinations.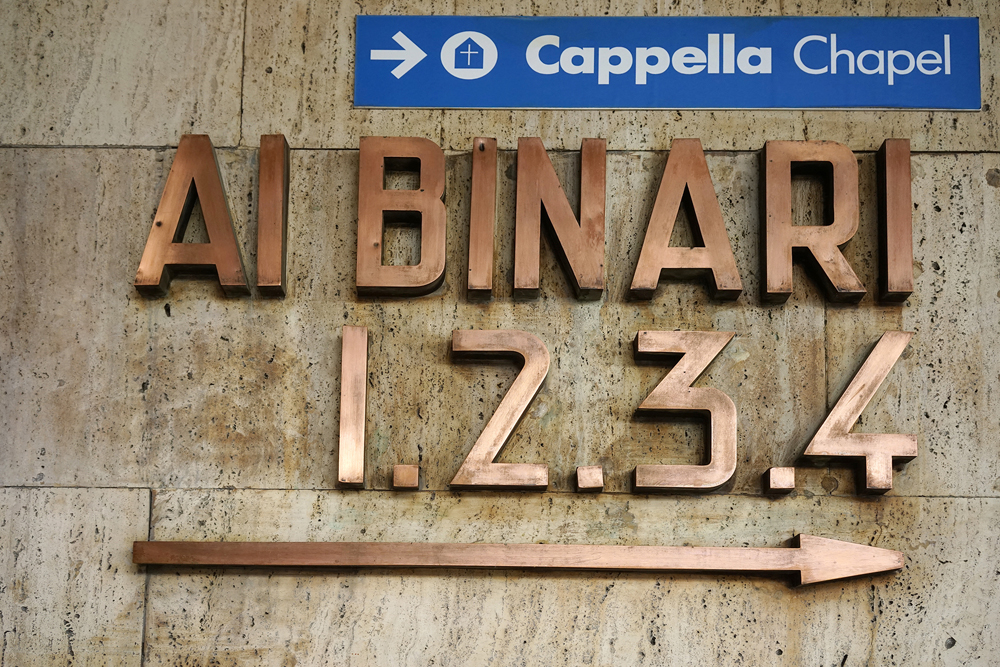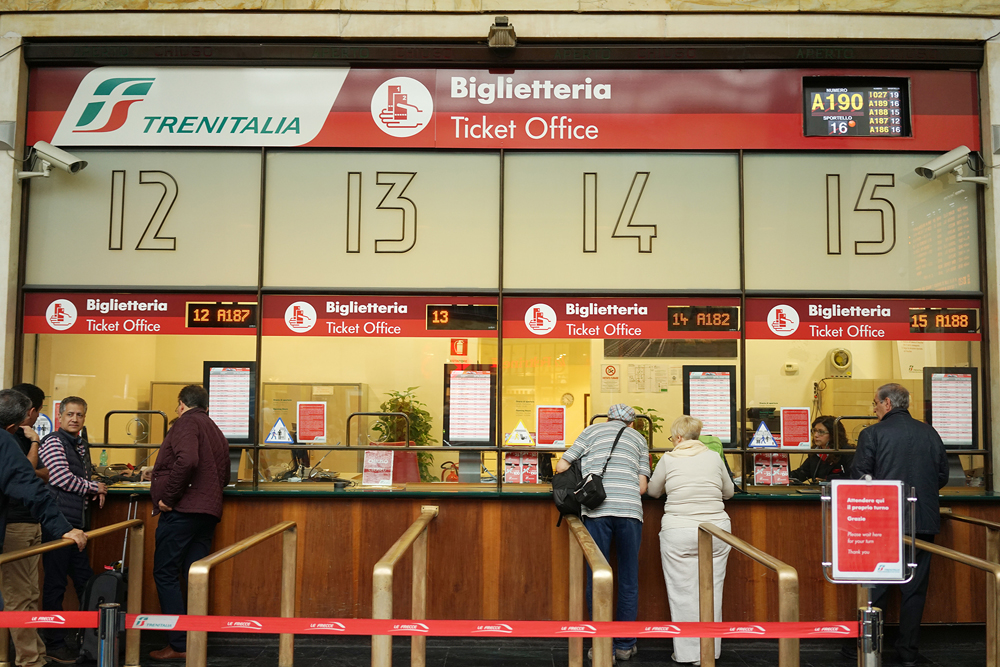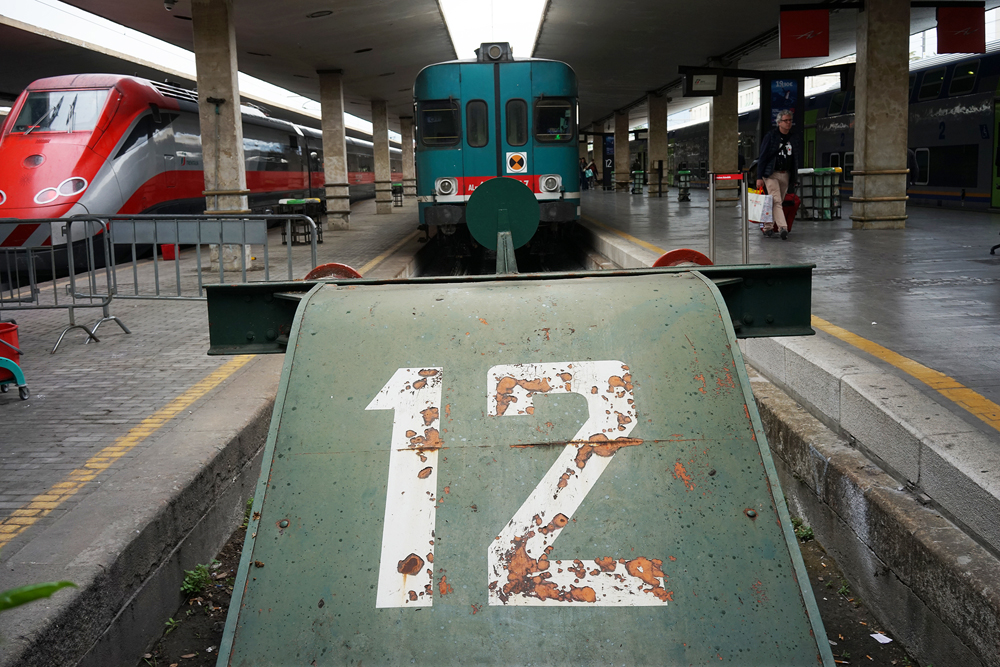 The volumetric brass letterforms of AI BINARI (to the platforms) have held up well, and those 1.2.3.4. numerals are gorgeous, as are the outlined versions of the numerals 12, 13, 14, 15 used in the original ticket counters. It's a pity they have to now compete with more recently added printed signs, as language and communication needs have expanded over time. Station platform numbers appear on end-of-the-line buffer stops, with the 12 here showing evidence of wear. It would be remiss of me not to mention here the sobering presence near platform 16 of a plaque commemorating Jewish people deported on trains during World War II to Nazi concentration camps.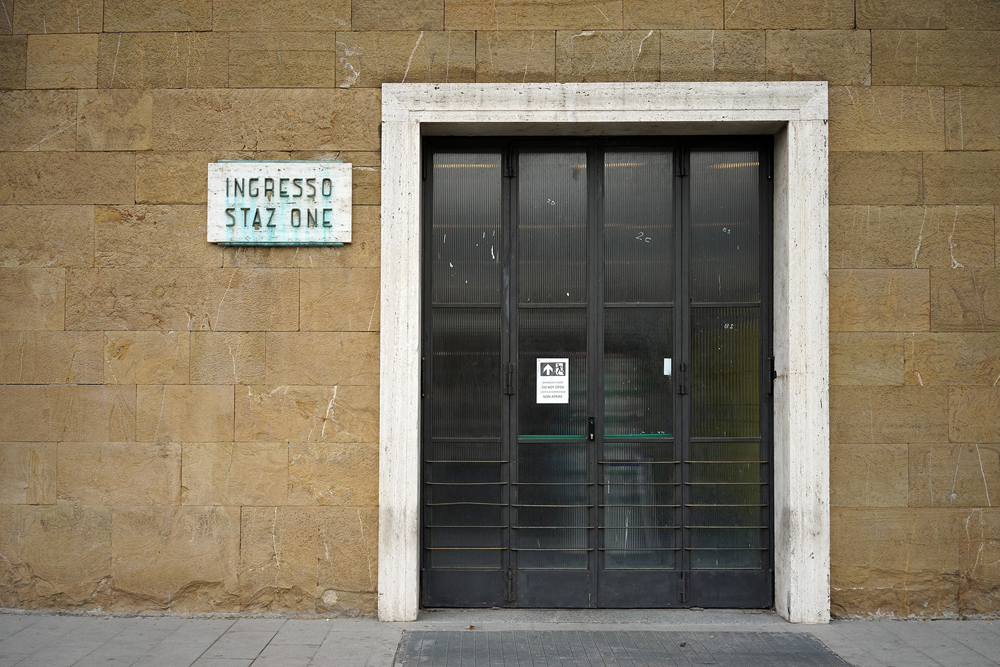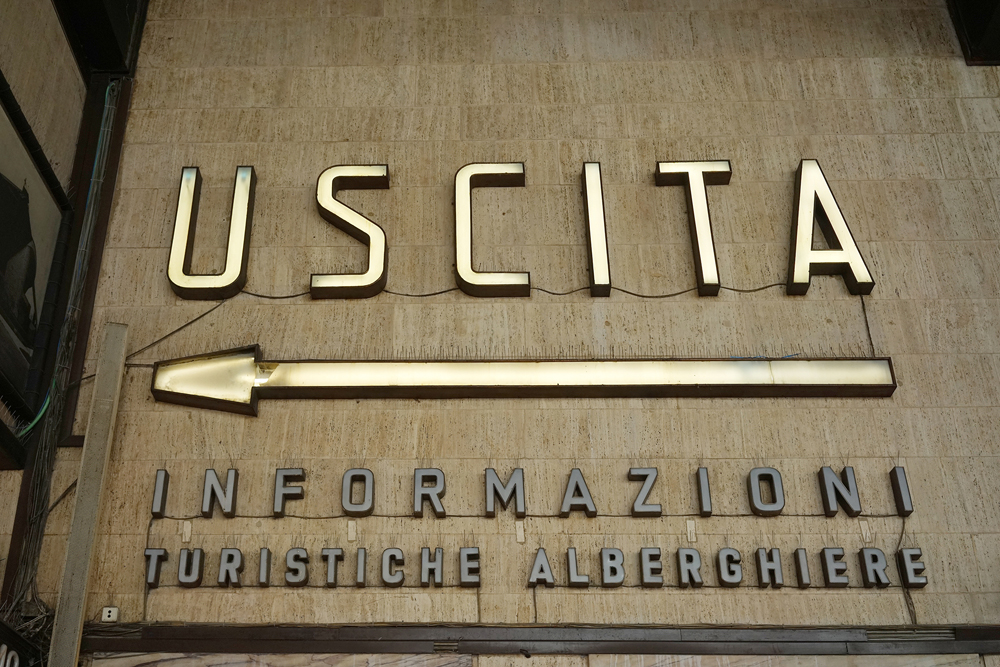 The faded beauty of INGRESSO STAZIONE (station entrance)—with the "I" missing—may be my favorite sign. The aqua patina from the oxidized brass letters staining the marble ground adds a poetic sense of time, especially as this entrance is no longer used. STAZ ONE would be a good album title. The shape of the stylized S with its angular dance seems determined by the physical constraints of bending a metal bar (clue: Michelucci's family owned an artistic metalwork shop), and is the same as we see in the backlit USCITA (exit) sign; this appears to have been the overarching typographic style, even if it is not adhered to everywhere, and varies somewhat according to materials employed.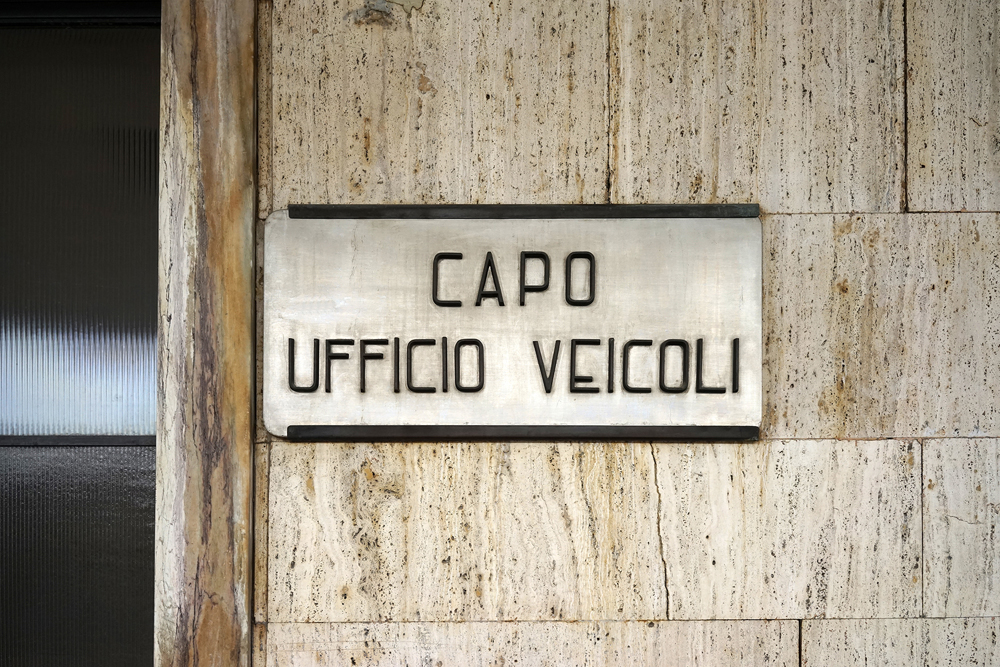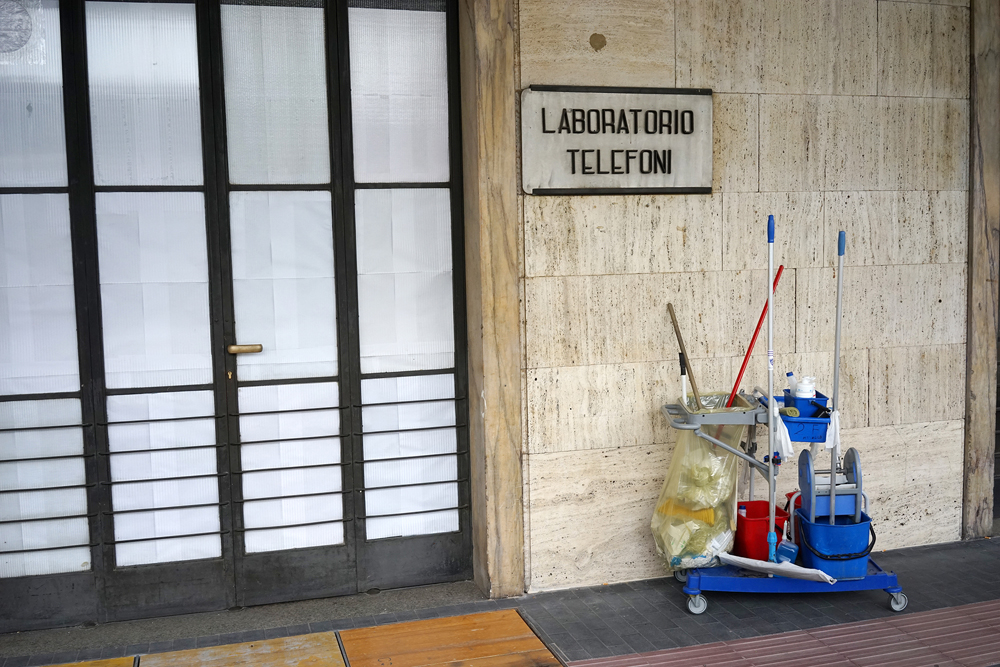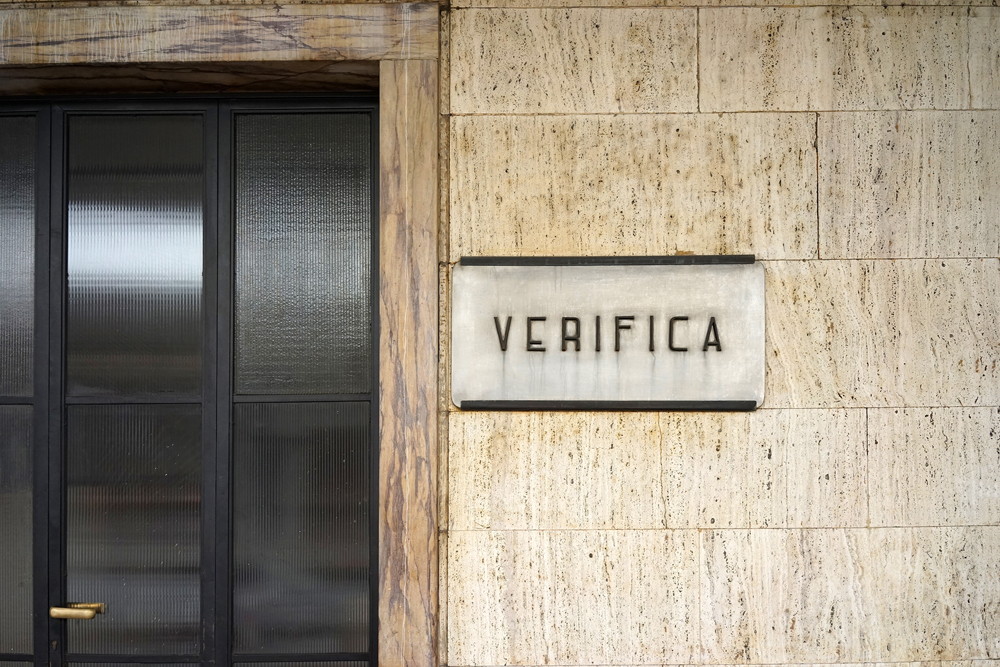 Other smaller signs for offices have the same stylized condensed letterforms which seem to have been made from bent and welded steel (iron?) strips. CAPO UFFICIO VEICOLI (vehicle office manager) LABORATORIO TELEFONI (telephone laboratory) (payphones) and VERIFICA (verification) (of what?) all display spectacularly low-slung center strokes on the E, as well as high ones in the F, and straight-sided O, B, and R. The lettering on these signs is similar to the hand-drawn titling on architects' plans of the station that I have seen reproduced, so my suspicion is that it was drawn up by one of the architects, rather than existing as a typeface. Apparently, Gruppo Toscana was responsible for the main building, but a lot of secondary details were handled by the government architect Angiolo Mazzoni, which may account for some of the stylistic inconsistencies.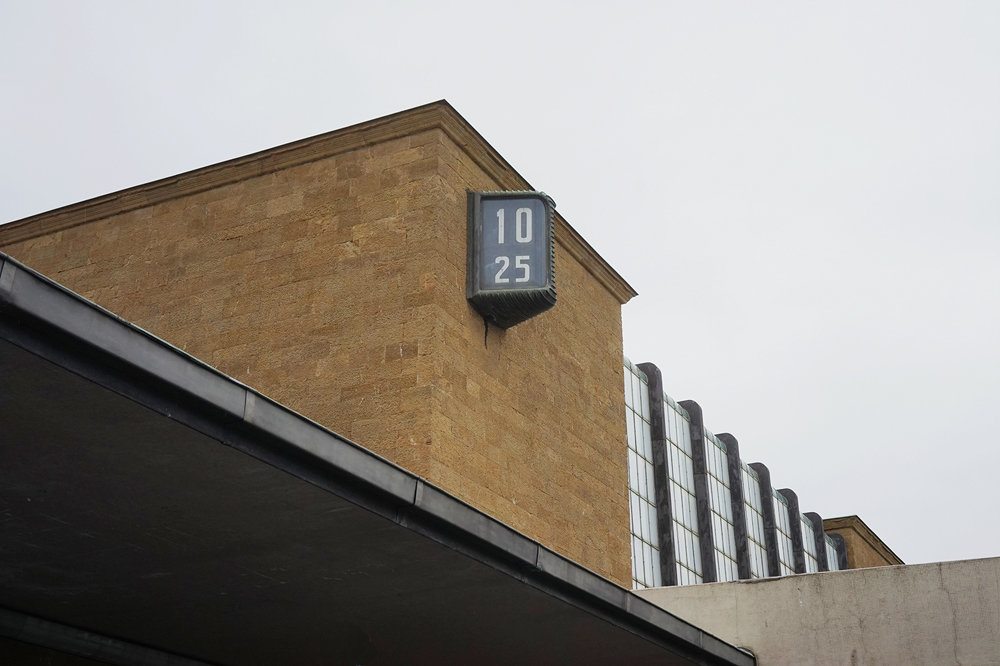 Lastly, we come to the amazing digital-style clock on the front façade, which is probably one of the earliest examples of stacking two over two numerals to display the time, though now a common sight on digital devices. This clock was designed by one of the Gruppo Toscana architects, Nello Baroni, and must have been radical at the time, particularly as early drawings of the building depicted a traditional circular clock face. Each numeral is controlled electronically, operating the vertical split-flap figures, a system which later became ubiquitous in horizontal split-flap versions in railway stations and airports worldwide, and can still be seen, for example, at Frankfurt airport.
In a city replete with a dizzying array of Gothic and Renaissance religious buildings, the Santa Maria Novella station is a sophisticated twentieth-century response, seemingly in conversation with the city's architectural heritage, a forward-looking secular cathedral dedicated to the new gods of speed, linearity, and movement.
All photographs © Simon Johnston