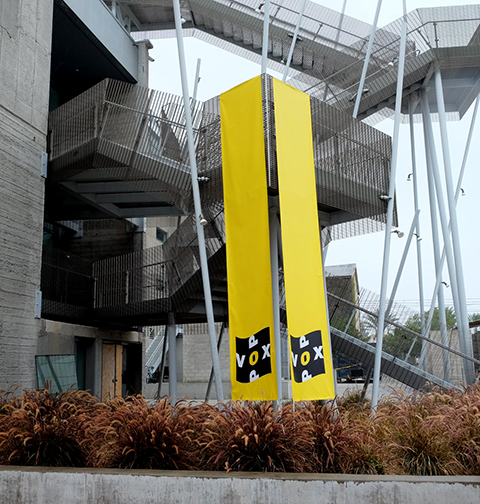 The HMCT presented a one-day symposium on March 10, bringing together leading designers and artists who visualize public opinion, movements, news, politics, and language to examine how the voices of typography and design work to affect our world and influence our opinions. Presenters included: Robbie Conal, Amos Kennedy, Jr., Nadine Chahine, Hamish Smyth, Jesse Reed, Josh Higgins, Tyrone Drake, Vanesa Eckstein, Frances Anderton, Frank Augugliaro, Gloria Kondrup, Simon Johnston, David Mihaly, Kristine Lim, Jennifer McKnight, Carol Wells, and Dr. Lorne Buchman.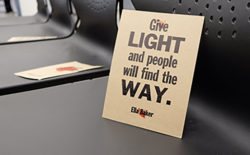 The first panel, The Individual Voice of Protest, kicked things off with a rousing start. Two of the country's foremost artists, Robbie Conal and Amos Kennedy, Jr., both known for their satirical political posters, pulled no punches in describing how and why they use their handcrafted messages of protest. The panel was moderated by ArtCenter faculty and LA-based designer Ty Drake, whose own background growing up in 60s-Black Panther-era Oakland, CA added significantly to the lively discussion.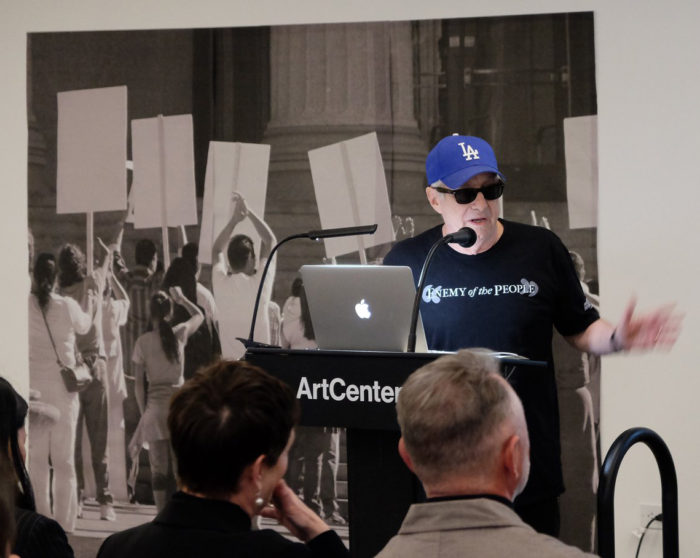 Empowerment: The Voice of Typography — Influence on News and Information served as the topic for our second panel and was moderated by Frances Anderton, best known as KCRW's host and Executive Producer of DnA: Design and Architecture. She was joined on stage by panelists Dr. Nadine Chahine (seen below), currently serving as Monotype's resident expert on Arabic typography; and Frank Augugliaro, Creative Director for Wired magazine. The intense conversation took us everywhere from the (literal) life-and-death struggle of releasing fact-based news in some regions of the world; to how the psychology of color can be used as a typographic element in influencing the opinion of readers.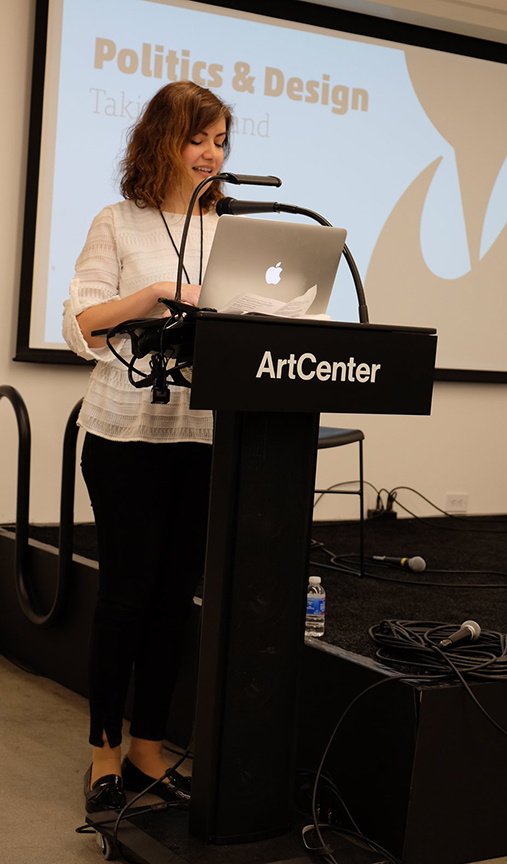 The final panel, The Brand Voice of Persuasion, took us through two very disparate political campaigns: the U.S. push for the public support of and participation in World War I, and the re-election of President Barack Obama in 2012. David Mihaly, Curator of Graphic Arts and Social History at The Huntington Library, shared images and background stories from the outstanding collection held by The Huntington of some of the most iconic propaganda WW I posters. Josh Higgins, Executive Creative Director of Facebook, described how he came to be involved with the second Obama campaign, guiding and shaping its overall look in his role as Design Director. The panel moderator was Vanesa Eckstein, whose acclaimed firm Blok Design (known for never shying from political issues) is currently re-branding the identity of the venerable LA-based institution, The Center for the Study of Political Graphics (CSPG).
Speaking of CSPG, one of the workshops and demonstrations offered during an extended lunch break was a special tour of HMCT's South Campus Gallery exhibition, Feminae: Typographic Voices of Women, by Women. Conducted by CSPG's Founder/Executive Director Carol Wells, participants discussed the curated selection of historic and contemporary posters on view, including works by noted artists such as Barbara Kruger, Sister Corita Kent, and the Guerrilla Girls.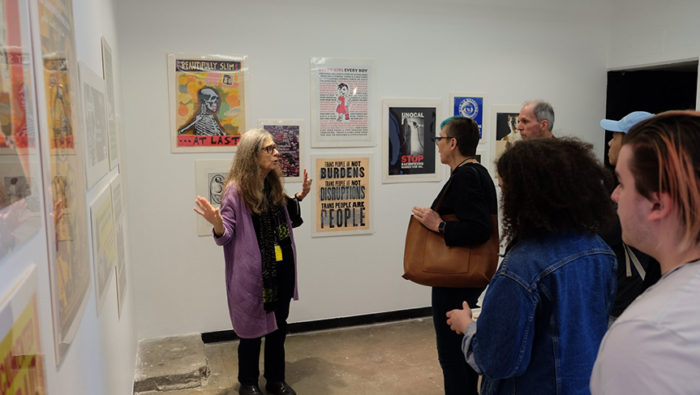 Other breakout sessions included a chance to get down and dirty printing posters with Amos Kennedy in HMCT's Archetype Press, and an in-depth discussion with Jesse Reed and Hamish Smyth of Standards Manual, an independent publishing imprint whose mission is to archive artifacts of design history (such as the 1975 NASA graphic standards manual), making them available to future generations. Stimulating conversations were also offered with the creators of two other exhibitions: Cast and ReCast: St. Louis Type Design Present and Past with co-curator Jennifer McKnight (viewable in our Storefront Gallery through mid-May); and ArtCenter graphic design student Kristine Lim, whose posters on display in the HMCT Archival Showcase area served as a backdrop to her talk, A Student's Voice of Protest.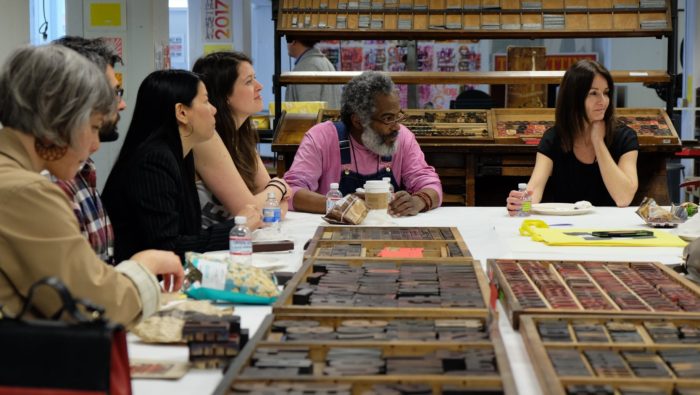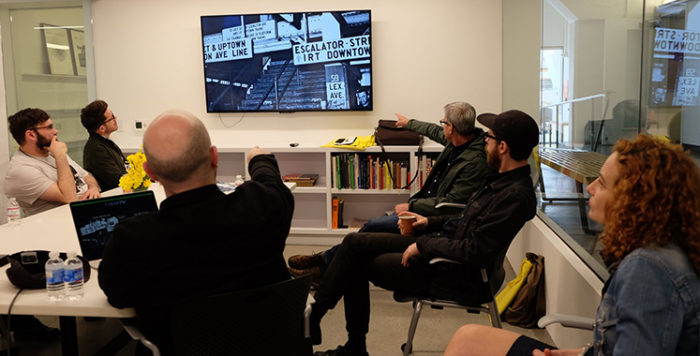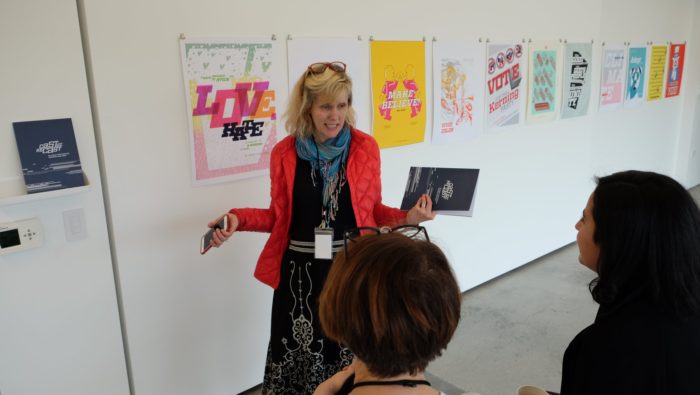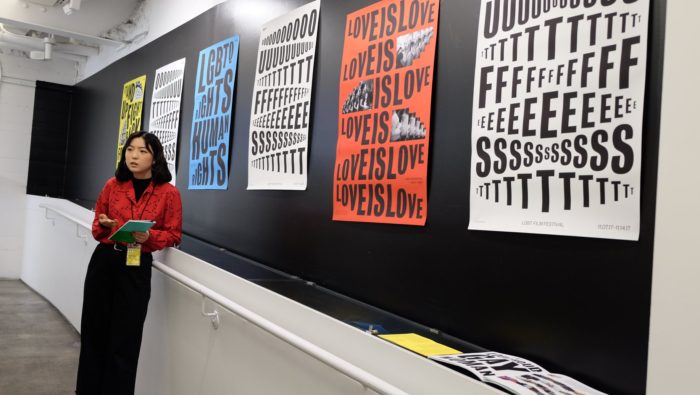 The finale to the symposium was a tribute to the continuing legacy Leah Hoffmitz Milken (the HMCT namesake) by ArtCenter President Dr. Lorne Buchman. His celebration of Leah on the third anniversary of the Center's inauguration was touching and heartfelt, leaving hardly a dry eye in the house. He invited everyone to visit the newly redesigned HMCT vestibule where a permanent installation pays homage to Leah's life and work, both as an esteemed designer and beloved ArtCenter faculty member. VOX POP participants then adjourned to the Feminae exhibition for its official gala opening reception.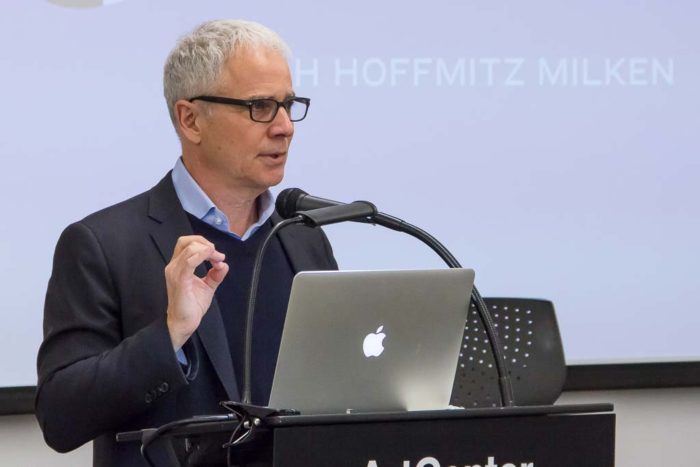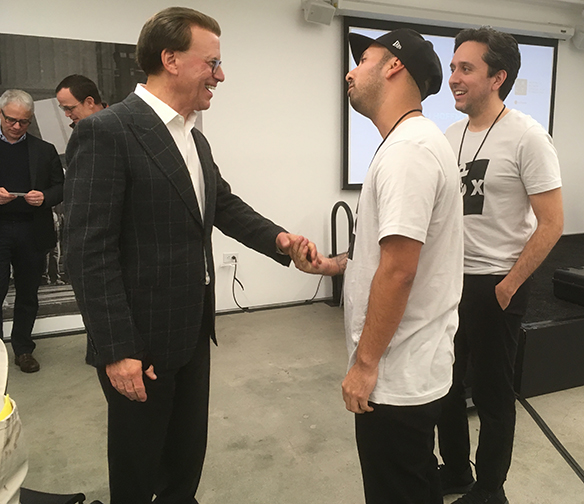 Following our Saturday of thought-provoking presentations and dialogues, an all-day letterpress printing master class (or a mini Wayzgoose) was held on Sunday, March 11 in Archetype Press. Amos Kennedy and Gloria Kondrup guided 20 of the most skilled printers from Southern California (and beyond) as they spent the day creating their own works of protest, persuasion, and empowerment.
If you were not able to attend the symposium, please view all of our panel discussions by visiting this link. To download the Vox Pop LA program, click here. And if you happen to be in London on April 25 (or July 12 or October 11), be sure to join us as the dialogue continues at VOX POP LONDON. We hope to see you there!
Thanks to our Vox Pop photography team: Matheo Cadena, Annie Vazquez, and Anilu Carrillo
Our image on the blog page features designers Vanesa Eckstein and Wendy Murray in front of Wendy's poster, part of the HMCT Feminae exhibition