Other Events
POSTPONED: Design Educators Typography Intensive
Fri, Apr 03, 2020 – Sun, Jul 18, 2021
Fri, Apr 03, 2020 – Sun, Jul 18, 2021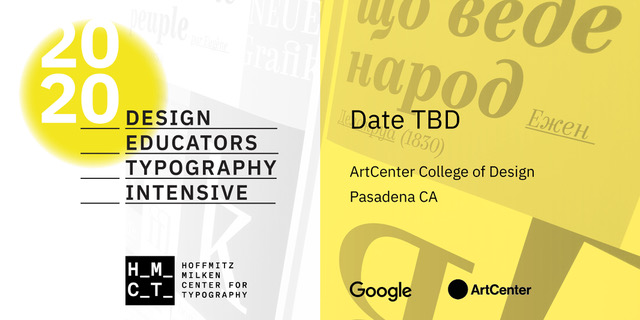 NOTE: Due to the COVID-19 pandemic, we will be re-scheduling the Intensive in 2021. Please contact us at hmct@artcenter.edu if you are not on our email list and wish to stay apprised of event re-scheduling.
Effective teaching should be shared, not a secret.
The HMCT continues the legacy of ArtCenter Professor Leah Hoffmitz Milken, who for three decades, left her mark on students through her skilled tutelage in typography and visual problem solving, inspiring future generations of "thinking designers." Leah's had a profound dedication to teaching and her desire to give back to her students and fellow educators. She was intensely interested in the effects of technology and changing cultural influences on the design of letterforms and roll of typography in visual communication.
The Design Educator Typography Intensive offers educators access to some of the most talented typography instructors that will share their teaching methodologies and pedagogy in an intimate environment at one of the most prestigious design schools and honors our mission to elevate and advance the teaching and understanding of both letterform design and typographic practice.
Educators should be supported and celebrated.
The Design Educator Intensive is affordable. Participants will be charged a nominal fee of $150 for the entire weekend [scholarships are available] and offered continuing education credit from ArtCenter extension.
For more information, visit deti.hmctartcenter.org, or email hmct@artcenter.edu.