HMCT EDUCATIONAL RESOURCES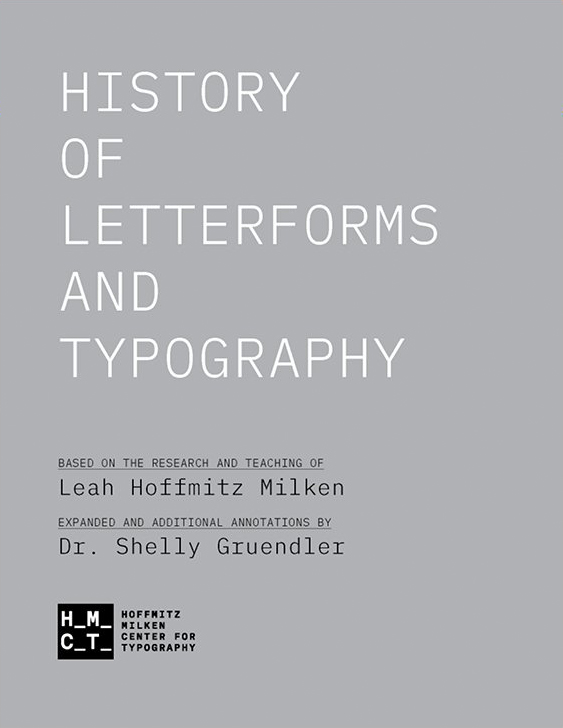 The History of Letterforms and Typography: This open source course explores and examines the formal evolution of written language. The content is based on the research and pedagogy of noted typographer and educator Leah Hoffmitz Milken, expanded with additional analysis and annotations by Dr. Shelley Gruendler, and is now available for download from the link below or contact the HMCT to receive a free eBook copy of the course.
HMCT CATALOGS & PUBLICATIONS
All Roads Lead to Roman: A New Type Family Based on Stroke Variations: Catalog published upon the culmination of French graphic designer Thomas Huot-Marchand's six-week residency as the 2019 Typographer-in-Residence at HMCT. Working with HMCT Typography Fellow Carina M. Huynh (who also designed the catalog), Huot-Marchand, created the variable font Roman.
Catalog available at Draw Down Books.
Bonnie Siegler Lecture: Design Family Politics
Joshua Trees, Yvan Martinez, Krister Olsson Lecture: Public Foundry
Paula Scher Lecture: 25 Years at The Public
HMCT Artists-in-Residence 2020 at Archetype Press: Alan Kitching & Kelvyn Smith
Documentation of the work of Alan Kitching & Kelvyn Smith, master letterpress printers and typographers from London, as the 2020 Archetype Press Artists-in-Residence. Filmed and edited by videographer/filmmaker Karina Logothetis.
In Verbis Artis (Virtual Tour)
In Verbis Artis (In Words Art) is an art exhibition that explores the relationship between typography, design and fine art. It examines the fluidity of written words in contemporary culture, and addresses the myriad potential interpretations of language. Exhibition curated by John David O'Brien. The Los Angeles-based artists include: Gajin Fujita, Alexandra Grant, Mark Steven Greenfield, Jason Manley, Rebecca Ripple, alum Steve Roden, Jody Zellen. Video cinematography by Lavinia Lascaris.
Catalog available from Draw Down books.
Transmedia Design and Typography at
ArtCenter College of Design
A documentation of the Transmedia Design and Typography advanced studio classes featuring student projects at ArtCenter College of Design. The studios focus on the future of communication, the relationship between physical and digital media, and the practice of telling stories across different platforms through the exploration of traditional and new materials.
Plan B: Spirit of the Bauhaus
Plan B is an exhibition featuring Bauhaus-inspired projects created by students at ArtCenter College of Design. The exhibition was an exercise in recapturing the daring spirit of the Bauhaus, rediscovering its heritage, and imagining its future significance. This TestLab Berlin program was presented by HMCT and ArtCenter Graphic Design. Direction, editing, and cinematography by Karina Logothetis: www.karina.world
HMCT Artist-in-Residence 2019 at Archetype Press: Dafi Kühne
An overview of the work of Dafi Kühne, Swiss typographer and 2019 Artist-in-Residence at Hoffmitz Milken Center for Typography (HMCT) Archetype Press at ArtCenter College of Design in Pasadena, CA. Direction, editing, and cinematography by Alex Dimitriadis.
Mujeres Hispanas y Tipografía: International Women's Day
Presentation by Marina Garone
Students, designers and artists can access this impressive letterpress facility—the largest in California.